---
This patient had a painful corn over the last (distal) small toe joint of the third toe. This resulted from shoe pressure. The wire markers in the x-rays above, rest over the location of the corn. Note that there is a contracture of the distal joint between the middle and last toe bones (phalanges). This contracture was rigid and created an upwards displacement of the joint, and a downwards displacement of the tip of the toe. The toe was elevated to expose the x-ray on the right.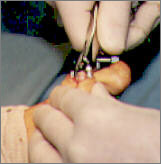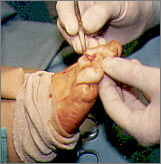 ---
From Left to Right: The toe has been anesthetized with a local block and is scrubbed and ready for surgery. In the next image, a wedge of skin (which included most of the corn) was removed (excised), and the distal toe joint (distal interphalangeal joint) exposed. Bone forceps are poised to remove (resect) the head of the middle toe bone (phalanx). The following image shows the toe after the head of the middle phalanx has been excised. The final image shoes the toe after the tendons have been reconnected and the skin sutured.

Close-up photo of the wedge of skin and head of the middle phalanx after excision.